The following article appeared in the May 10, 2001 edition of the Las Vegas Weekly.
Upfront: A day in the life of a movie extra
Behind the star-laden scenes of Ocean's 11
By Jaime Spotleson (jspotleson@vegas.com)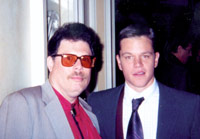 Mark Rodney w/ Matt Damon
I blame the '80s, even the '90s.
Network news and E! taught me that TV is nothing without a few explosions, some glitz, or at the very least, some collagen-lipped beauty or beefcaked star. I can't help that I'm fascinated with celebrity interviews, the quashed relationships of Richard Gere or the face-altering surgeries of Cher.
Is it a surprise that with the stars in town to shoot the remake of Ocean's 11 -- George Clooney at the Venetian, Matt Damon at Drai's -- I hung out for weeks on the Strip in full-blown manhunter mode? And given the opportunity to interview a couple of guys who actually worked on the movie, I immediately called everybody I know to gloat.
Dennis Conti and Mark Rodney are major characters without ever having been in a movie. From behind orange, square-rimmed glasses, Rodney feverishly began talking, interjecting whenever Conti's overwhelmingly serious manner--reminiscent of Christopher Walken--demanded a kick in the pants.
In the midst of an all-star cast, Rodney was paid about $3,000 to be a costumed gambler in casino and street scenes. And for $1,500 Conti played a strong, silent Bellagio security guard. What did they see? Who was doing what to whom? Here's the dish:
Director Steven Soderbergh is attempting to make some kind of statement by not letting the extras wear blue, only the stars; apparently Matt Damon is a chain-smoker, but a very nice fellow and gifted actor--after talking about Boston with Rodney, he was willing to take a picture for Rodney's daughter at UNLV; Julia Roberts has a beautiful back, unpretentious personality, and to Conti, "she looks just like every girl in person but the camera loves her." Her bodyguard also waits for her after takes, as it was rumored that she had a stalker working at the hotel; Brad Pitt knows how to work a crowd and encouraged people to clap between takes; Clooney, who is speculated to play Sinatra's character, "is a real player, he hung out with all the girls."
Both men agree that working in the awe-inspiring presence of household names wears thin after repeating the same scenes for 12 straight hours. But they had no problem reminiscing for hours. And Rodney's career in entertainment belies his apparent boredom on the movie set.
Currently, Rodney's a DJ for KUNV 91.5 FM. But the showbiz bug bit decades ago. He was a child TV actor. And he is also the son of famous jazz musician Red Rodney: "President Clinton sent a letter when he died, so I guess for a trumpet player he did OK."
If Rodney were a few pounds lighter and a few years younger, you also might recognize him as the folk guitarist and singer from the early '70s. Some of his songs were memorable, but his stories are even more so. "I was hanging out with The Stones and Jimi Hendrix for awhile, and it all comes down to nothing," he says. "The only guy I ever really admired was my dad."
The point of show business, he waxes, is to "give it your best, have a good time, and not take it too seriously." Wise words from a man who went to Hollywood High, began his career as the rear end of a zebra, and now has to repeatedly assure himself that, "I'm kinda like semi-retired."
Conti describes himself as an "emerging artist for the 21st century," and has aspirations of escaping to Europe and doing independent films and theater. He philosophizes on the inspiration he received from his early mornings on the set "when the dawn was coming up and the full moon was still in the sky. It was religious."
Conti added later, "I think everyone should be an extra, so that they won't be intimidated by TV. You get a better sense of reality, you know that this is a process. It's pretend."
Hey man, don't ruin my fantasy.
Copyright © 2001-2004 Rock Classics. All rights reserved.